Is your breeding strategy keeping pace with your broader farm management changes?
We exist to help farmers make the most profitable breeding choices for their particular farm management system.
We want to make breeding decision-making the most valuable step in pursuit of greater profitability.
We commit to developing the easy-to-use selection tools necessary to achieve this.
How? By developing more commercially-focused breeding objectives, more accurate genetic evaluations and better match genetic measures to commercial farmers' needs.
Background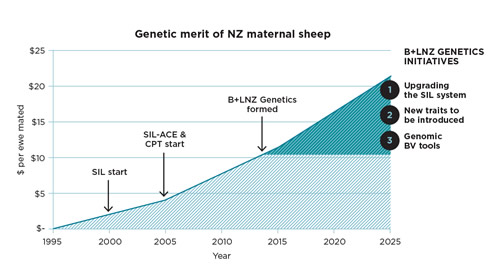 B+LNZ Genetics was established in 2014 to consolidate New Zealand's sheep and beef genetics research and innovation into a single entity. We are a subsidiary of the farmer-owned industry organisation, Beef + Lamb New Zealand (B+LNZ) and are funded by sheep and beef levy payers and the Ministry of Business, Innovation and Employment. We are supported by additional investment from third parties, including meat processors, breed societies and commercial entities interested in sheep and beef genetics and genomics.
B+LNZ Genetics is building on already significant genetic gains in New Zealand farming.
View a copy of our Research and Development book below which overviews the current activities of our programme.

View R&D Book (pdf)
Meet the B+LNZ Genetics team