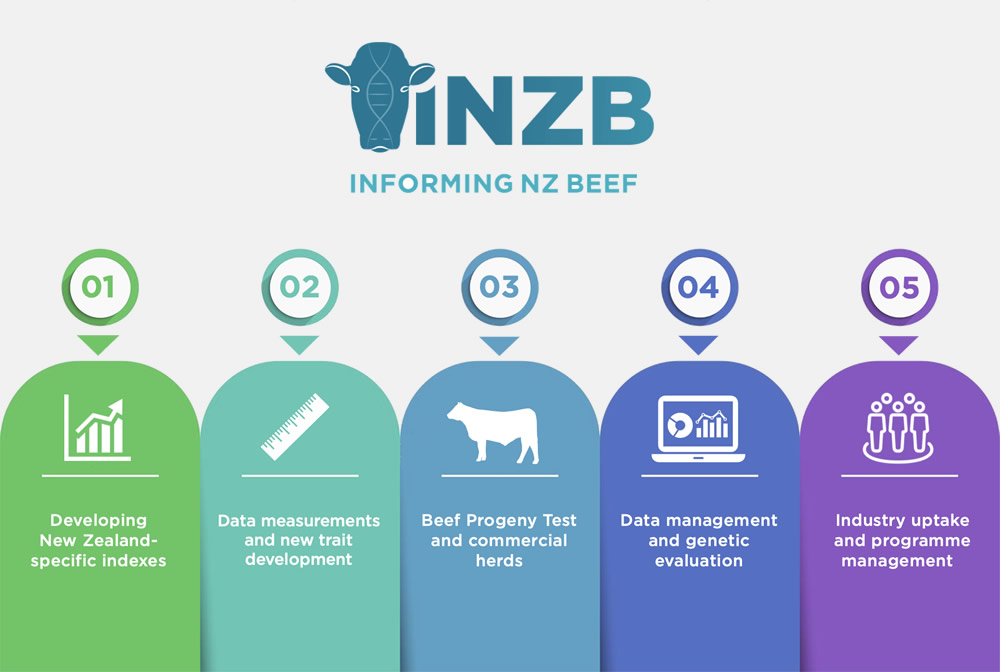 INZB involves five key projects:
Project 1: Developing New Zealand-specific indexes.
Review and develop national breeding objectives and indexes, with the potential to simplify how genetic information (e.g. Breeding Values and Indexes) is presented to occasional users, such as commercial farmers purchasing bulls, while still making detailed information available to breeders and advanced users.
Project 2: Data measurements and new trait development.
Develop novel traits and establish standardised trait measurements for new and existing traits.
Project 3: Beef Progeny Test and commercial herds.
Fundamental to an across-breed genetic evaluation is linkage and the ability to make adjustments for hybrid vigour. Industry-good Beef Progeny Test sites will provide those linkages and provide New Zealand-collected data to accurately predict hybrid vigour. INZB goes a step further and will work with farmers to establish Next Generation herds within existing commercial operations. These herds will feed critical information back into the system:
Performance data collected in commercial environments.
Genomic data calibrated against commercial reality.
Female replacement selection data.
Carcase data.
Project 4: Data management and genetic evaluation
This is the programme's "backend" computing power, where data flows in and out, seamlessly and for maximum benefit to individuals (breeders and farmers) and the national beef herd. It involves developing database tools, including storage and reporting, as well as creating a New Zealand multi-breed genetic evaluation system. Importing international breeding values will be explored.
Project 5: Industry uptake and programme management
Increase the uptake of the use of genetics in the beef industry by driving adoption of genetic tools developed in the INZB programme. Ensure the programme receives appropriate input from advisory and governance groups.