One step for cow – one giant leap for bovine-kind
Tuesday 1st May 2018

Supplied by Max Tweedie, B+LNZ Genetics for Country-Wide Beef
With every season that passes, predicting a bull's actual performance – before you invest in him – becomes increasingly accurate.
The latest tool is called "single step". Yes, it's hard-core genomic science, but you don't need to worry about that. As a commercial farmer, all you need to worry about is that bull breeders who are investing in this technology deserve your attention, come bull-buying time.
If a breeder is using genomics, his sale bulls will have more accurate estimated breeding values (EBVs). That means you can have a lot more confidence that those bulls will deliver what their EBV figures predict.
What is single step genomics?
Genomics is all about predicting the performance of a bull's calves by snooping into his DNA.
Previously, genomic-enhanced breeding values have involved a multi-step process and were only available to Angus breeders. Single step evaluation is faster and more efficient, because it processes all genotype, pedigree, performance and progeny data simultaneously. Most importantly, it allows all beef breeds to have their EBVs enhanced with information gleaned from their genes – not just Angus.
Accuracy of EBVs: Who cares?
New Zealand farmers buy their bulls as yearlings or two year olds, which is great, as it speeds up genetic gain in their cow herd. The downside is that a young bull's EBV figures can only be drawn from the performance of his relatives, since the young bull has no progeny of his own to measure – and it's the progeny information that you really want.
Because they have no progeny, the accuracy of yearling and two-year-old bulls is relatively low – at 25-74% (even lower for some traits) – compared to 74-99% for a proven sire bull.
However, EBVs are still our best bet for predicting how a young bull's calves will perform and a lot more reliable than sale day weight, as the Beef Progeny Test has shown.
Using genomics lifts a young bull's accuracy, as if he has some progeny of his own on the ground. And that's the magical insight you want, as a bull buyer.
How widespread is the use of single step among bull breeders?
Single step genomics is becoming standard operating practice internationally and many countries are enjoying the benefits that come with that investment. Specifically: improved accuracy of genetic merit in early life – for better selection of the next generation's dams and sire – and faster rates of genetic gain in hard-to-measure or expressed-late-in-life traits, such fertility and carcass weight
While the uptake of genomics to date has largely been Angus breeders, Simmental and Hereford are now jumping on board at a rapid rate, thanks to single step. Other breeds are close behind.
Tests cost about $50 per animal, but also cover off DNA parentage – a massive plus. But it's still a big investment across an entire stud and a barrier for many.
How do you know if a bull breeder uses single step or not?
When you check out their cattle catalogue online (through the breed societies' websites), look out for 'Genomics' under "Traits observed" – it's the line that sits beneath each bull's EBVs. Also check the front of their sale catalogue. If they've spent $50 per bull testing, they'll want to let you know.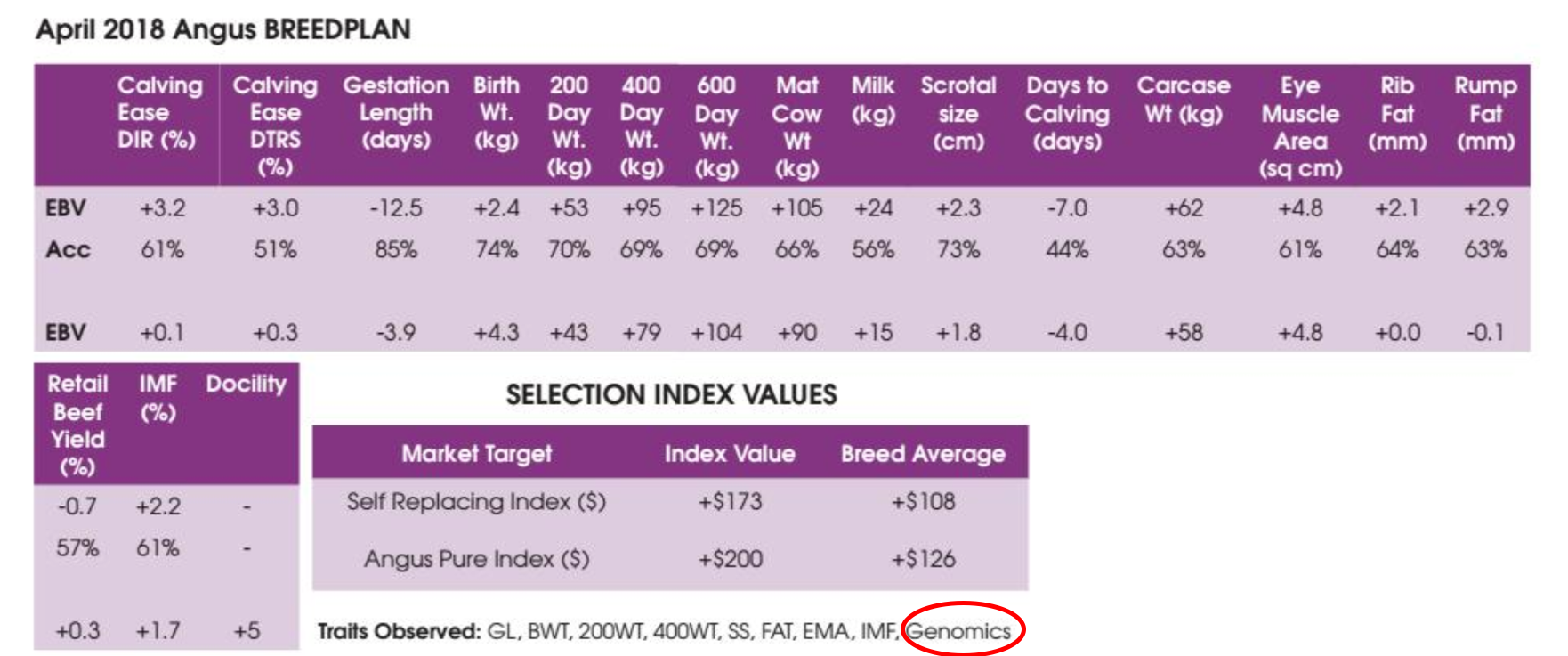 Should you expect to pay more for a genomic-tested bull?
That's up to you. If you pay $6000 for a bull and less than 1% of his purchase value ($50) was spent on enhancing his EBVs, I'd say you're doing all right.

Previous