Case for dairy-beef calves gains momentum
Wednesday 2nd August 2017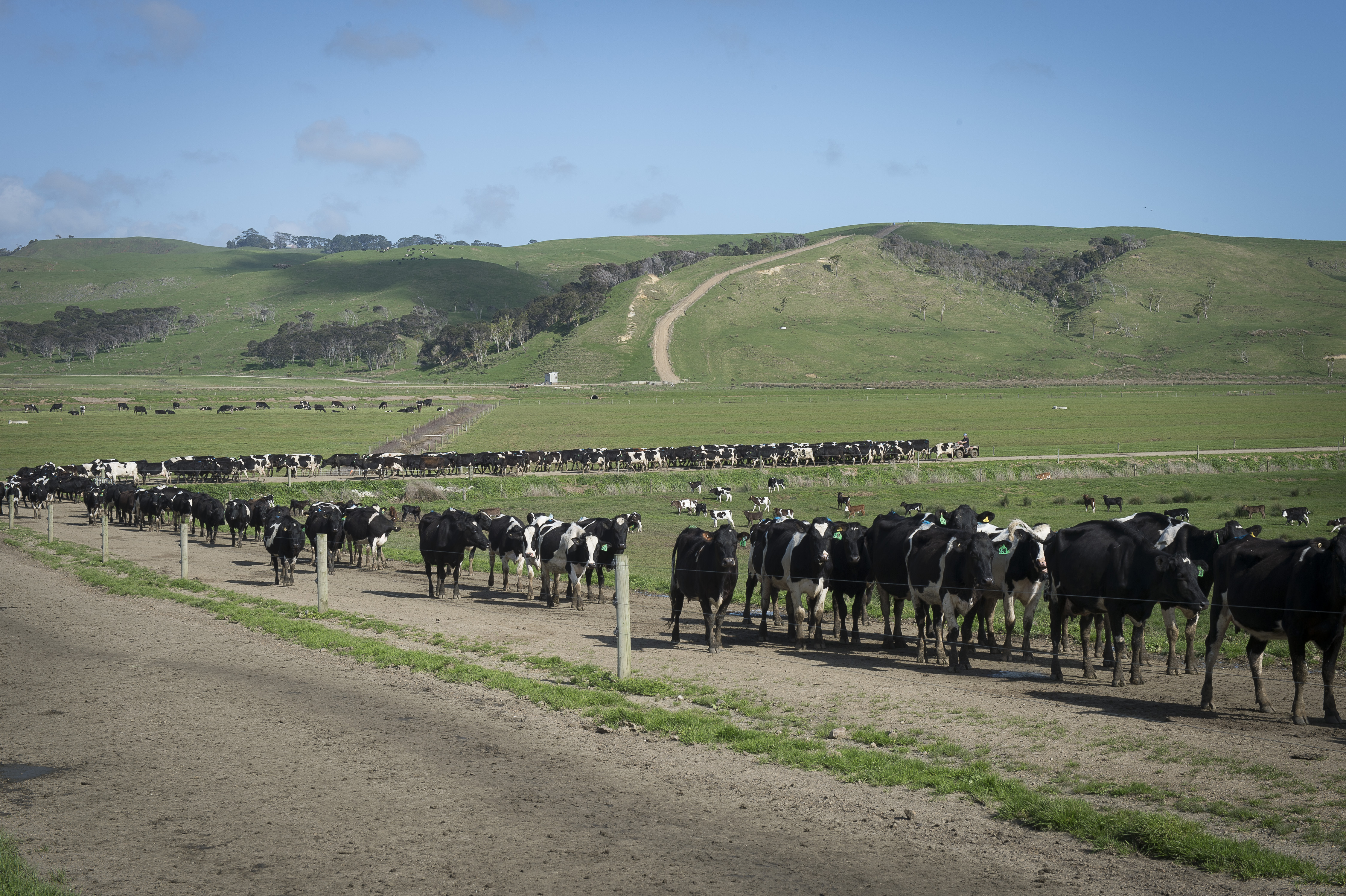 Initial results from a dairy-beef progeny test show that strategically selected beef bulls will yield high-value beef calves, without compromising calving ease or days in milk.
The four-year Beef + Lamb New Zealand (B+LNZ) Genetics' Dairy-Beef Progeny Test is being carried out at Limestone Downs, near Port Waikato. Its goal is to calculate the additional value that can be added by using high genetic-merit Angus and Hereford bulls, versus the unrecorded bulls traditionally used as "follow-up bulls" in most New Zealand dairy systems. It involves two years' of strategically-bred beef-cross calves, which are then followed through to processing.
The second and final crop of calves are being born now, with the first year's crop of 620 beef-cross calves weaned and being finished on the Limestone Downs sheep and beef operation.
Lead researcher Associate Professor Rebecca Hickson says bulls were strategically selected based primarily on their birthweight, calving ease and gestation length breeding values, with secondary emphasis on growth traits (400-day and 600-day weights) and carcase traits, specifically marbling.
Three selections of Angus and Hereford bulls were used:
1) Average unrecorded bulls, that acted as the control,
And, based on the traits identified as important:
2) Bulls in the top 10% for their breed
3) Bulls in the top 50% for their breed.
Rebecca says the correlation between the bulls' breeding values and how their calves actually performed were very accurate, indicating how do-able it is to address critical factors, such as calving ease and birthweight.
Results to date make for positive reading. Calves from the mixed-age cows were born at an average of 37kg, after an average 282-day gestation. (The breed average for both Friesian and Jersey is the same, at 282 days' gestation.) The calves were weaned at 90kg, at an average of 79 days old. That translated to a growth rate of 0.67kg per day to weaning.
For the two years of calvings, Limestone Downs bought in replacements, as it was cost effective over the period. However, they are now in the process of returning to a traditional breed-your-own replacements policy, to reduce exposure to fluctuating replacement cow costs on the open market.
Limestone Downs dairy manager Aaron Frazer says the dairy unit will always have a strong beef component, because Limestone Downs is aiming for zero bobby calves.
"This year, we are back to four weeks of AI followed by beef bulls, and a beef bull to the heifers."
The poorer quality mixed-aged cows will be artificially inseminated to beef bulls for the four weeks. The intention is a 40:60 mix of replacements to beef-cross calves. Aaron says he will be studying the progeny test data to guide the decision making around beef bulls to source.
B+LNZ Genetics General Manager Graham Alder says the results add weight to the current industry push towards increasing the quality of calves sourced from the dairy sector and reducing bobby calf numbers. "This is a win-win for all parties. We are looking forward to the beef-cross calves progressing through to processing, which we expect to reinforce the argument for using well-chosen beef bulls."
The project's next milestones are the 2017 crop of calves hitting the ground in spring and carcase data coming through for the year one progeny, as they are finished during 2018.

Previous