B+LNZ Genetics Beef Breeder Forum 2017
Wednesday 26th April 2017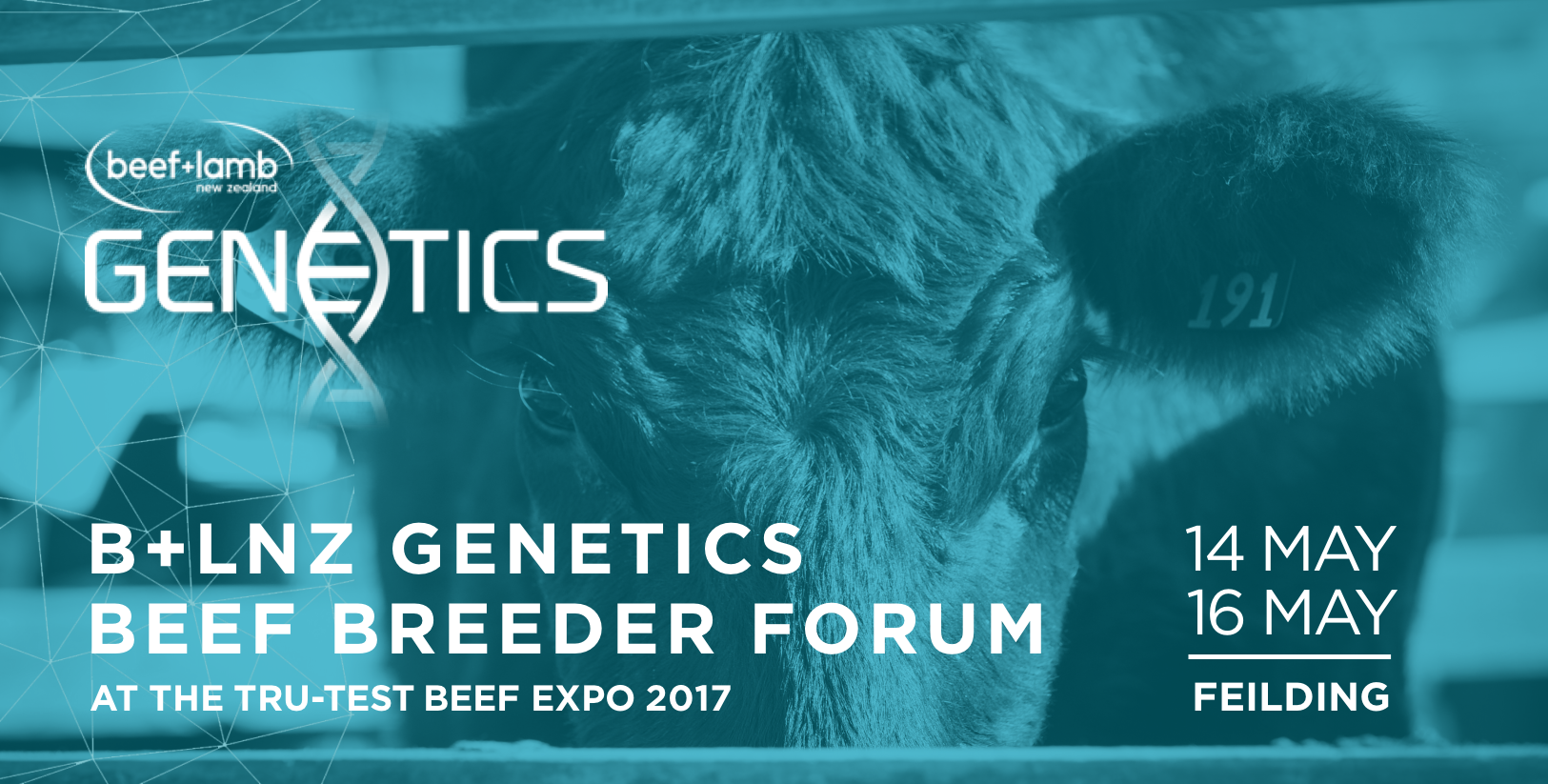 May 2017 Update:
Videos of each speaker can be viewed here. Copies of presentations can be found using the links below.
Welcome & update - Graham Alder, B+LNZ Genetics
Dairy-Beef Progeny Test: Red, Black or Brown? – Associate Professor Rebecca Hickson, Animal Breeding and Genetics unit, Massey University
Beef Progeny Test Terminal Performance – Dr Jason Archer, Beef Progeny Test Project Manager AbacusBio
The Value of Performance Recording – Prof Dorian Garrick, Chief Scientist, Institute of Vet, Animal and Biomedical Sciences, Massey University
Breed your cows for genetic gain – Max Tweedie, Genetics Extension Officer, B+LNZ Genetics
Beef breeding, a corporate farmers perspective - Lester Wright, Rimanui Farms
Genetic strategies to meet pastoral farming requirements in the 2020's: a dairy perspective - Phil Beatson, R&D Manager, CRV Ambreed
Breaking the norm: Bull Breeding for market - Tom Gubbins, Te Mania Angus Australia
Setting up a seedstock operation to maximise genetic gain - Ian Locke, Wirruna Poll Herefords
April 2017 - Forum Information:
Sunday 14 May: 1pm-5pm
B+LNZ Genetics Beef Breeders Forum
Tuesday 16 May: 7am-9am
B+LNZ Genetics Technical Breakfast
What we'll cover
General Manager Graham Alder will give an update on the organisation's vision for beef genetics, before introducing the Trans-Tasman Beef Cow Profitability Programme – a three-year initiative worth $5.2m and co-funded by Meat and Livestock Australia.
We'll be presenting the latest results from our Beef and Dairy-Beef progeny tests. By the end of this year, the Beef Progeny Test will have produced three crops of calves and results show that 90% of the expected yearling weight advantage predicted by a bull's EBV figure is being realised.
Other speakers on Sunday include Massey University's Professor Dorian Garrick, Beef Xcel's Jim Green, Max Tweedie from B+NZ Genetics and Lester Wright from Rimanui Farms. The afternoon will conclude with a Q&A panel session on the topic: Breeding sires for 2027- where do we want to be in 10 years?
On Tuesday morning, CRV Ambreed R&D Manager Phil Beatson will share learnings from the dairy industry and Australian stud breeders Tom Gubbins and Ian Locke will talk about different aspects of bull breeding. Tom runs Te Mania Angus – a large stud operation in Victoria – while Ian is chairman of the Agricultural Business Research Institute (ABRI) and runs Wirruna Poll Herefords.
Both events are free to attend.
Spaces are limited at each event.
Please RSVP to confirm attendance at one/both events

Previous